2024 Calendar in the Store. Fall Newsletter published in News. To receive a newsletter, please send a note to [email protected]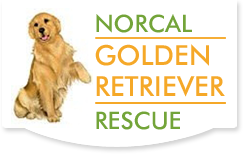 NGRR is an all-volunteer organization. We are always looking for people with a soft spot for Golden Retrievers who can help us. If you have some extra time, please join us in our Mission to place adoptable Goldens in loving new homes. NGRR does not have a central facility; instead, we all work out of our homes and communicate by phone, email, and our website. Our volunteer positions fall into 3 broad categories: Fostering, Hands-On Operation, and Support, all of which are defined below and in the applications.
For Fostering, see our Online Foster Application or Printable Foster Application .
For Hands-On Support, see our Online Volunteer Application or Printable Volunteer Application
We make every effort to contact applicants within a reasonable amount of time, but sometimes that isn't always possible. If you do not hear from us after 30 days, please call 650-665-0964.
Fostering
Fosters are our most important volunteers. Fosters take in surrendered dogs who need a safe home right away. They make sure vet visits and shots are done, and otherwise care for the dog as if it were their own dog while in their custody. NGRR pays for all the vet care. Our fosters are compassionate, giving people, willing to invest their time and talent to help a dog in need.
If you are interested in becoming an NGRR foster, see our online foster application Online Foster Application. One of our members will contact you and arrange an interview.
PLEASE NOTE: Most of our qualified families are looking to support calm dogs that get along with other dogs. As you can imagine, those goldens are placed very quickly! What we are most in need of are dog-training-smart fosters that can support a dog that may need to be the only dog (and usually, no cats) and can transport for possible ongoing medical care. If you can help with these needs, please submit a foster application.

Hands-On Positions Include
Assisting with adoptions such as home visits, phone interviews, and working with other volunteers to find the best dog match for approved applicants.

Assisting with surrendering dogs, such as interviewing families who want to surrender their dog, transporting the dog to fosters, and working with other volunteers to find the best household match for a surrendered dog.
These Hands-On positions are located in each of our staffed Northern California counties. We are organized mostly by county, so if you are interested in a Hands-On position, your application will be forwarded to our appropriate Area Coordinator and the Volunteer Coordinator.
Support Positions Include
County Area Coordinator

Newsletter Editor

Writing Thank You Notes

Volunteer Coordinator

Annual Calendar Publication

Merchandise Manager

Vet Committee

Annual Fund

Website Support

Vet and Community Outreach and Education

Professional help such as Accounting, Finance, Legal, Public Relations, etc.
Your volunteer application will be forwarded to our Volunteer Coordinator who will then decide which of our people can best use your help. Online Volunteer Application
Must Fill Jobs
See the current list of Must Fill Jobs to get an idea of what specific jobs we have open in what locations.
Video
Video by Paul Bliss - www.blinc.net, music by Suzanne Ciani - www.sevwave.com