2024 Calendar in the Store. Fall Newsletter published in News. To receive a newsletter, please send a note to [email protected]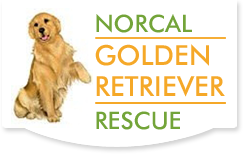 NGRR is a non-profit, all-volunteer organization, whose mission is to rescue and place adoptable Golden Retrievers in Northern California in safe, loving homes, thereby improving the lives of both the dog and the adoption household.
We are happy to accept Golden Mixes and bonded pairs that include at least one Golden Retriever into our care and placement process.
We operate from Fresno to the Oregon border and in the Lake Tahoe/Reno area.
We offer placement services for owners who need to give up their dogs because of changing life circumstances such as relocation, financial hardship, divorce, allergies, illness, or death. We offer them an alternative to taking their pets to an animal shelter or humane society. We also rescue abandoned, neglected, and abused Golden Retrievers. Depending on the economy, roughly 100 to 150 dogs per year find a haven when they find us.
Unlike some rescue groups, we take senior dogs (over 8 years old) and find them a safe, loving home to spend the rest of their lives. We also take dogs with medical conditions and pay for treatment, including surgery, where the dog has a reasonably good chance of living a pain-free life. The most frequent conditions that we treat are typically hip dysplasia and other orthopedic problems.
History
Norcal Golden Retriever Rescue originated from the NORCAL Golden Retriever Club. Like most responsible breed clubs, it recognized its obligation toward all dogs of its breed and established a committee of volunteers to form a rescue organization. In 1994, NORCAL Golden Retriever Rescue, Inc. was incorporated as a nonprofit corporation under section 501(c) (3) of the Internal Revenue Service code. NGRR's Federal tax-exempt ID is 77-0392584.
Volunteers
We have over 150 volunteers throughout Northern California who generously donate their time and love to rescue displaced Goldens. Among these volunteers include a Board of Directors and local area Adoption and Surrender Area Coordinators who are arranged mostly by county. Each County Area Coordinator works with a network of area assistants who help provide temporary foster homes, rescue Goldens from animal shelters and surrendering families, transport dogs, evaluate the health and temperament of dogs, and perform a myriad of other tasks. We also have people who help us with support tasks such as coordinating volunteers, writing thank you notes, publishing our Newsletters and GoldenGram e-Newsletter, working at events, and community and vet outreach. See our Volunteer page if you would like to help us, or simply submit our Online Volunteer Application.
Fosters
A special volunteer position is to be a foster. Fosters are people willing to take surrendered or rescued Goldens into their homes, care for them, see that they get appropriate vet care (at NGRR expense), training, exercise, and otherwise prepare the dog for adoption. See our Online Foster Application if you would like to help us by becoming a foster.
Funding
Our expenses are primarily for veterinary care, neutering and spaying, training, transportation, and administrative expenses such as printing and postage. We rely upon adoption donations, fundraising, and general Donations or our funding. Our online store sells our yearly NGRR Calendar and other Golden Retriever items.
How we Operate
We interview all adoption applicants in their homes to both qualify them for adoption and identify the type of dog that would make the best match for the household.
When we accept a surrendered or stray Golden, the dog is placed in a foster home where we determine the dog's medical and behavior to determine the next steps. While the dog is in our care, we complete required vet care and may enlist a trainer or Behaviorist if required.
The Area Coordinator and Foster family will evaluate the dog and determine the best loving home for the dog. Our Volunteers then review the list of all currently available dogs and the list of qualified adoption applicants and try to make the best match using phone calls, emails, home visits, and our website.
When we see a good match, we arrange for the selected applicant to see the chosen dog to review the dog and schedule a home visit. If the Meet and Greet is a success, we proceed to sign the adoption contract and the applicant takes home the dog. A follow-up home visit will be scheduled following the adoption process to ensure a successful transition.
Video
Video by Paul Bliss - www.blinc.net, music by Suzanne Ciani - www.sevwave.com