As much as we love them, the time comes when we have to let our special friends go. While they will live forever in our hearts, sometimes we want the world to know about them too. NGRR lets you create a lasting Memorial to those companions or people who made a special difference in our lives or the lives of those close to us.
NGRR also lets you create a Tribute to special friends, human or canine, to celebrate an event, or otherwise honor them.
There are two ways to create your Memorial or Tribute:

Simple Donation: Donate by cash, check or credit card using the online donation form. Select Memorial or Tribute from the dropdown. Be sure to complete the fields for an acknowledgment if you want us to send one. Follow through with all the PayPal directions if you use a credit card. We suggest a minimum donation of $25
Website: You can create a Memorial or Tribute with pictures and longer text to show up on this page like those shown below. Make a donation using our online donation form as described above. Follow through with all the PayPal directions if a credit card is used. Then in addition, send your text and images to [email protected] where we will create the page for you. We suggest a minimum donation of $50.
A Special Gift
As a special gift to all the dogs who have gone before, one of NGRR's very special friends has a poem to share with us. Many of you have asked for a link to The Rainbow Bridge Story.
Those we miss we will always remember.
John Joseph Curran Memorial
John was a lover of all things, but one of his biggest personal passions was his love for dogs…especially Golden Retrievers. For over 30 years you could not find John without a dog by his side or near to his heart. Charlie, Jake, Arthur, Roxy, and Oliver all felt the love and passion that John had for his four-legged friends. He also branched out and loved two smaller furry friends: Max (Yorkie) and Sadie (Maltese).
Nothing would bring more joy to John's heart than knowing donations in his name to Norcal Golden Retriever Rescue would help support these beautiful animals.
If you choose to donate by check, please annotate it with the text "In memory of Mr. John Curran" and send it to:
Norcal Golden Retriever Rescue
405 El Camino Real #420
Menlo Park, CA 94025
PETS
Our most loyal and loved Cotton age 12 came to us as a foster at 4, he tried three homes and kept coming back to us, we are the lucky ones, he was a hoot.
Cotton was our most loyal friend he will be so missed. Sweet Cotton!
The Beard Family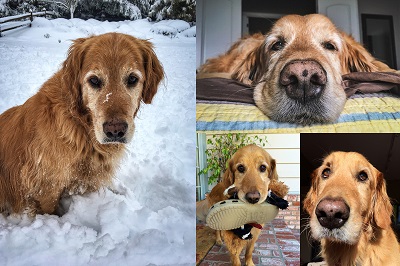 In memory of our beloved best friend and family member Bosco. A dog who epitomized the Golden Retriever character in each and every way with his unconditional radiant love and loyalty. They say we can learn a lot from our dogs: patience, happiness, loyalty, love, trust and companionship…all things that our sweet "Bosco Boy" had. There isn't a day that goes by that we don't think about him and miss him.

Bosco: We miss your joyful trot, couch cuddles, wiggly greeting with a mouthful of toys, your big smile, wagging tail, and always having you right by our side. You really were the best dog a family could ever hope for...We were the lucky ones. We love you, Bosco, and will forever miss you. XOXO

Sincerely,
Tenaya Stine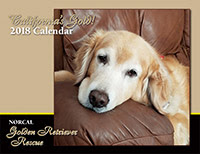 "In honor of my fabulous big sister, Pat Lynch, and for all the Goldens whose lives are safe and warm during this holiday season and throughout the year because of her talents and huge heart in creating the NGRR calendar each year. Her Wheaten nieces and I love her so much for everything that she does for NGRR."

Connie Koehler
Connemar Wheatens
Rancho Palos Verdes, CA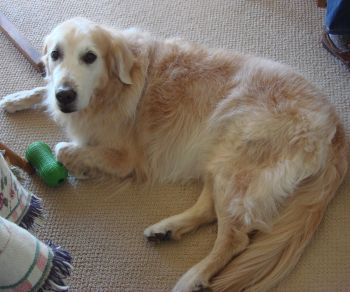 For the love of dear Henry, who kept our Monday writing group entertained, on our toes, amused, and laughing for years, from coast to coast... He was a cherished mascot and a loving companion to our class, rain or shine.
Henry, our pens will flurry on and remember you always, sweet friend.
--Wight's Concord Creative Writers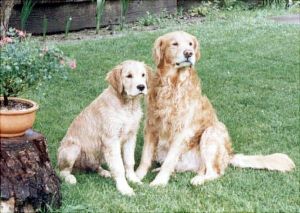 Sok (right) was a wonderful companion and epitomized the Golden nature. An avid swimmer, his serious side came out when helping emotionally disturbed children deal with their issues. He carried on a wonderful line of Goldens from his father, Abraham, and bred extensively with Canine Companions for Independence (Santa Rosa) and Guide Dogs for the Blind (San Rafael).
His son, Benjamin (left) was another energetic lover. Lymphoma cut short his life just before he was to start his breeding career.
Both are still missed after the years.
A special thanks and recognition to Dr. Ruth at CCI who was pivotal in both their lives and instrumental in bringing us together.
--John Graykoski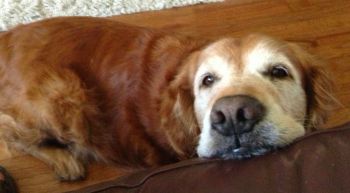 Daisy,
You could not have been more loyal or appreciative of our affection and care. You found your forever home, and we found pure love. Thank you for all your teaching. We love you.
Love,Mom (Susie) and Jim Glueck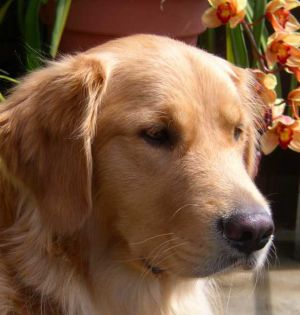 Malcolm was loved by all and wherever he went…..at home, at the office, on vacation, or just walking down the street. He greeted every person and every other animal with that golden smile and with the tail wagging. He left us all too soon but everyone is a better person for having spent time with him.
Thank you.
--Joyce Shiarella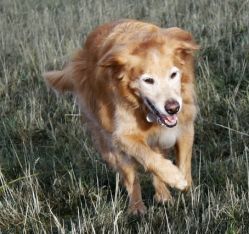 We didn't have Shiloh for 9 year's she had us. Gentle and sweet, when he wagged his tail his whole body wiggled. And when you hugged him he would lean into you. And he had the most elegant prance.
Shiloh never let us forget to play, always eager to fetch or tug with his grungiest toys. He was king of the bubble chasers. Oh, and a skilled counter surfer without a shred of remorse for the occasional filched sandwich.
There wasn't a time when Max or I lay down for a nap that Shiloh didn't make a beeline to plop down beside us. That was just his job.
And Shiloh was the best friend of Emily Rose, our Black Lab mix. They were inseparable. She misses him, as we will always miss him.
With gratitude to our loving companion.
Lucy, Max, and Emily Rose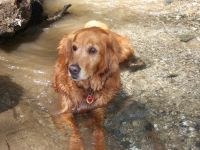 Lili Marlene, Loving memebr of the Nyren family crossed the Raibow Bridge on April 7, 2012 at age 10
Lili came to us through NGRR, an abandoned stray with a lethal infection, heartworm and evidence she'd recently had puppies. NGRR paid for her heartworm and other care and Lili became our fourth golden adopted throigh NGRR. She was special for her dainty and feminine nature, love of snuggling, and warrior princess nature when water or squirrels were sighted. In the mornings, she would jump into our bed and hug me while staring deeply into my eyes. Until late in life, she had no use for other dogs, until our fifth Golden, Sunny of Hollywood, taught her to play. She is deeply mourned. Eve Nyren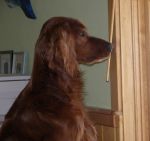 In memory of Betty Barkus (nee Rovetta) January 31, 2002-July 7, 2010
Loving family member of Kris Williams, Trigger, and Simba
Click here for the full story.

In memory of Belle, loving family member of Patty and Mike Zahares
September 16, 1994 ~ February 16, 2010. Click here to read the full story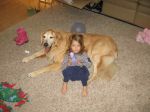 Cutter, loving family member of Bob and Barbara Richards passed over the Rainbow bridge on January 8, 2010 at almost 14 years old. Click here to see his story.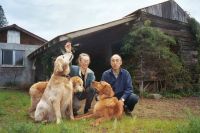 Rusty, loving member of the family of Eve and Koichi, passed over the rainbow bridge on Sept 13, 2009. Click here to see the memorial.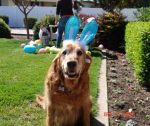 Mikie Morgan, loving part of the Morgan family (Jill, Richard, Molly, Samson and Scooter) passed over the Rainbow Bridge May 27, 2009. Click here to see his Memorial.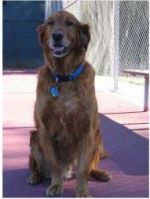 Jake, a warm and loved member of the Ashley family, born 10/8/98 passed over the Rainbow Bridge November 21, 2008. Click here to see Jake's Memorial.
Video
Video by Paul Bliss - www.blinc.net, music by Suzanne Ciani - www.sevwave.com