As much as we love them, the time comes when we have to let our special friends go. While they will live forever in our hearts, sometimes we want the world to know about them too. NGRR lets you create a lasting Memorial to those companions or people who made a special difference in our lives or the lives of those close to us.
NGRR also lets you create a Tribute to special friends, human or canine, to celebrate an event, or otherwise honor them.
There are two ways to create your Memorial or Tribute:

Simple Donation: Donate by cash, check, or credit card using the online donation form. Select Memorial or Tribute from the dropdown. Be sure to complete the fields for an acknowledgment if you want us to send one. Follow through with the payment directions if you use a credit card. We suggest a minimum donation of $25
Website: You can create a Memorial or Tribute with pictures and longer text to show up on this page like those shown below. Make a donation using our online donation form as described above. Follow through with the payment directions if a credit card is used. Then, in addition, send your text and images to [email protected] where we will create the page for you. We suggest a minimum donation of $25.
A Special Gift
As a special gift to all the dogs who have gone before, one of NGRR's very special friends has a poem to share with us. Many of you have asked for a link to The Rainbow Bridge Story.
Those we miss we will always remember.
FRIENDS AND FAMILY TRIBUTES
Kris Williams
Kris has been the ultimate dog angel in our area. As of now, Kris has lost three dogs in the past year due to cancer and I just wanted people to know how much she loves these dogs and cares for them. Every time she loses a dog, it is hard it knows what to say to her except THANK YOU.
Rosie Mann
---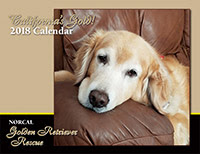 "In honor of my fabulous big sister, Pat Lynch, and for all the Goldens whose lives are safe and warm during this holiday season and throughout the year because of her talents and huge heart in creating the NGRR calendar each year. Her Wheaten nieces and I love her so much for everything that she does for NGRR."

Connie Koehler
Connemar Wheatens
Rancho Palos Verdes, CA
---
Dan Hershkowitz
Happy 50th Birthday to the greatest (rescue) golden retriever dad, Dan Hershkowitz!
Karen Lyons
---
Vaughn Trimble
This donation is given in tribute to our dad, Vaughn Tribble. Vaughn is a loving father of a 1-year-old golden retriever named Brody. He holds a special place in his heart for golden retrievers and previously loved golden retrievers Kirby and Duffy. Vaughn loves the unique personalities of each one.
Alison Martin and Family
---
BELOVED PETS
DORA
Dora was a sweet Golden angel, much loved by everyone who knew her, especially her Mom and Dad, Jill and Jason. She enjoyed spending her days with her Boxer sister, Emme.
She left this world too soon on April 19th, 2023.

Mariana Kopacc
GOODBYE OLD FRIEND
"Dogs are not our whole life, but they make our lives whole," said Roger A. Caras. A golden retriever named Max made me feel whole. He faithfully loved me until he took his last breath during the 2020 global pandemic.
Max loved the water. On eying the Pacific Ocean for the first time, he jumped off a huge boulder and landed safely before racing across the sand and jumping into the surf. He chased rabbits alongside the American River in Sacramento, swam after the birds in the Carquinez Strait on Benicia's waterfront, and waded in the Russian River near Guerneville, California. The jangle of a leash or the word "walk" never stirred a response from Max. When it was time for a stroll, he silently followed my lead. I could drop his leash and he would stay by my side. Max insisted on the full measure when it came to walks. Once we were out the door, we crossed the point of no return. If I tried to cut short one of our walks, he would play dead. No amount of coaxing would get him to move until we continued in a forward direction and completed our route. When my long commute to work made our twice-daily walks impossible, I hired a dog walker. He followed her to the front yard, but as soon as she tried to take him away from the house, he froze and refused to move. He pulled the same trick when my cousin Donna visited and tried to take him on a walk while I was at work. With his nose pressed into a corner of the living room, he was the guardian of the house and wouldn't go anywhere until I returned.
Max hated crowds. "Nope, not today," was his motto when it came to large groups and noise. Nevertheless, like stage parents, my boyfriend Nick and I organized The Golden Retriever Marching Drill Team, a group of dogs and owners who, until the pandemic, walked in the annual Winters Youth Day Parade. Max shivered with fright when I tried to nudge him into the parade. He hurried back to the front porch to watch from a safe distance. He just wouldn't walk the parade route and so he became the honorary drill team manager. I suspect he had been bullied when he lived with five other dogs as a puppy. He'd been in a fight before he surrendered and came to me with abrasions, puncture wounds, and lacerations. Max had food issues. The kibble in his dish always disappeared eventually, but only when I wasn't looking. Like poor Rudolph the Red-Nosed Reindeer, who didn't get to play reindeer games, Max must have learned as a puppy to wait to eat until the coast was clear. He didn't stand a chance when a stray cat came to visit and never left. If the cat climbed on the sofa, he got down. Max left her alone when she curled up right in the middle of his large circular bed. If she nibbled from his food dish, he walked away. Before I began teleworking, Max met me by the front door every day at 4 p.m. when I got home from the office. After the stay-at-home orders, he maintained his routine, waiting in the same place at the same time each afternoon, ready for our walk. While I teleworked, Max followed me from room to room, napping while I sat at my desk. Sadly, the day came when he could not rise on his own without help. He was thirteen. For as long as possible, we kept up our routine visits with Nick who lived 30 miles away. Max got more and more reluctant to get in the car and did so with a lot of help. He would put his paws on the floor of the backseat and remain in that position until I lifted his backside and pushed him up into the car. On what turned out to be his final trip to Nick's house, Max stepped out of the car and collapsed on the street. We carried him to the house on a makeshift stretcher fashioned from a blanket. After that, Nick visited Max at my house more often. Max spent his days cuddled on his bed, with his teddy bear, in the living room. I brought his food and water close enough so he could reach it without getting up. One afternoon Nick and I carried Max outside on a quilt to give him another day in the sun. For eleven years, Max had routinely sauntered to the bedroom at 9 pm., but toward the end of his days, he was unable to stand. I held up his back legs and walked him, wheelbarrow-style, to the bedroom. Each morning, about an hour, after I started my day, he rose and found me in the dining room, my home office. On a Wednesday morning, he stayed in the bedroom. When I checked on him, he was alert and smiling as always, but his bed was wet. He'd never had an accident in the house. Alarmed, I called Nick and we took him to the vet. An x-ray showed he had massive arthritis in his spine. The vet assured us she found no other specific problems. I sensed Max was afflicted with something more serious than normal aging. My mother had died of pancreatic cancer a decade before. Max's body seemed to be shutting down, the way my mother's had during her final days. Max stopped eating. On a Thursday, he drank water when I put the bowl so close to his big chin that he could extend his tongue and lap it up. On a Friday, my friend Joan came to say goodbye. "Oh, Kristine! He hasn't blinked since I got here. He's not going to make it through the day." I called Nick who made an appointment with a veterinarian. An injection could help Max pass away peacefully. I had to get Max to the clinic. Joan, strong and kind, helped carry him to the car on a blanket. "He always loved car rides," she said, casting a positive light on those dark moments. As I drove along the highway with Max in the backseat, I listened to his shallow breathing, until I could no longer hear him. I pulled over, jumped out of the car, opened the back door, and gave him one last hug. He was gone.
I drove to Nick's house, and we took Max to the veterinary clinic. The vet techs came to the car and carried Max inside.
A week later, Max's ashes came home in a small wooden box with his name engraved on a nameplate in a beautiful script. When the time is right, we'll scatter Max's ashes at his favorite sites: Carquinez Strait, the Russian River, the American River, and the Pacific Ocean.
His passing leaves me with sweet memories but also a hole in my heart. These days, whenever I pass a body of water I fondly remember how much Max loved taking a dip and never missed a chance for a do-it-yourself baptism
Max was my best friend for eleven golden years. I miss him so much. Goodbye, old friend.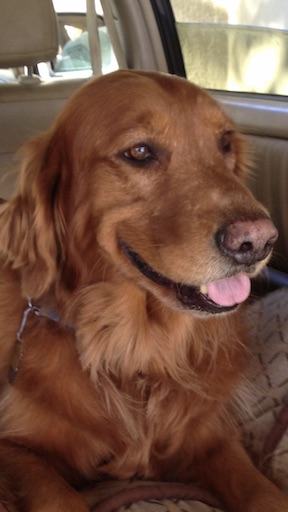 Kristine Mietzner 2020
---
About "Red" Bert almost 20 years ago
Bert was a Dog so Golden & Red,
He would lay at night by the side of our Bed.
He might snore & kick and fuss in the Night,
But by morning to the ready at the first sign of Light!
To him, the Tennis Ball was a God!
It meant more than digging up dirt or fresh sod.
He would chew and suck on the Ball's yellow flesh,
To be chased in the Vineyard was as to be blessed!
To crunch & swallow any kibble or food,
Would catapult him to a state of joy and good mood!
The dream then the act of being happily fed,
Would return him to the comfort of his L.L. Bean bed.
John and Marcy
---
Badger Emery
Badger was an amazing, fun-loving Goldendoodle, who we all loved. He brought us happiness, joy, sunshine, and many laughs because of his antics! Badger was a wonderful dog who loved his human family deeply and they loved him. He lived a glorious life and one that was blessed. We miss you.
Maureen and Chris White
---
Ms. Robyn Byrd
Robyn has been a devoted friend to Goldens for many years and we make this donation in appreciation of her hard work and dedication on the job. In honor of Robyn Byrd, a caring and compassionate person, and wonderful colleague
Jeff Weiss
---
Jamba Kessler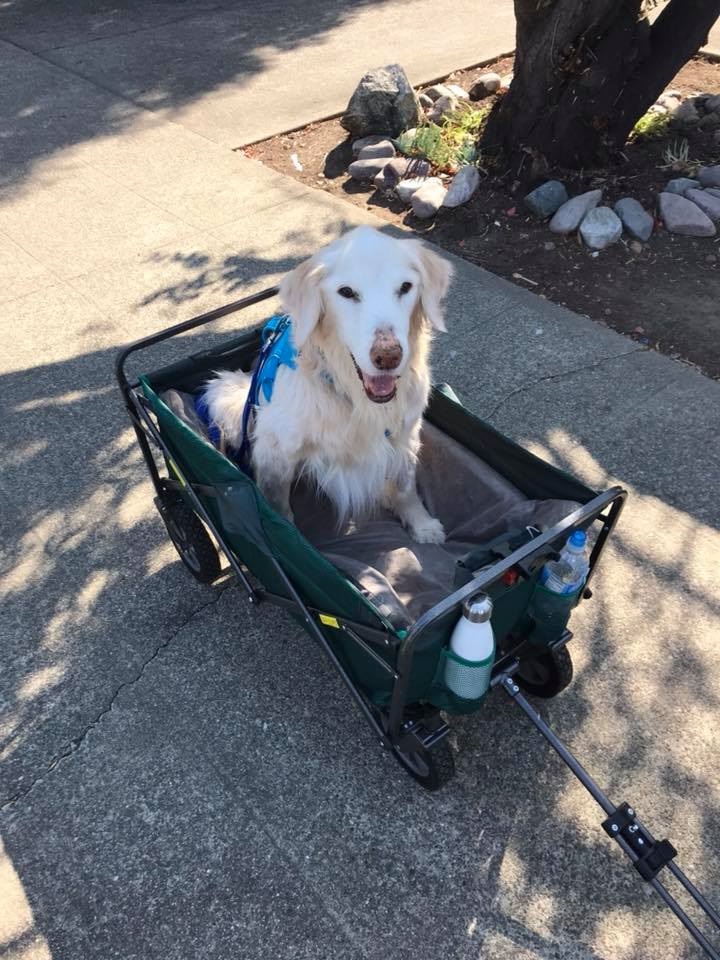 Jamba Kessler was a "once-in-a-lifetime" dog with an unmatched personality and zest for life. Martha and Rick first fostered and later adopted him through NGRR after he was rescued from Hurricane Katrina in New Orleans. As the hurricane came through, Jamba had gotten stuck on his home's porch where he remained for 9 days before rescuers found him. "A wild boy with a personality that was endless", he was always looking for the next great adventure even if that meant only a downtown walk. At age 10+, he was focused enough to earn 4 AKC obedience titles and was still attending class up to three weeks ago and loving it.
Although Jamba has departed this world, he will remain in the hearts of all who knew and loved him. Wishing RIP to Jamba and sending love to his "mom", Martha. September 2018
Love,
Dori, Morisa, Stephanie, Shahla, Yun-Ting
---
Our most loyal and loved Cotton age 12 came to us as a foster at 4, he tried three homes and kept coming back to us, we are the lucky ones, he was a hoot.
Cotton was our most loyal friend he will be so missed. Sweet Cotton!
The Beard Family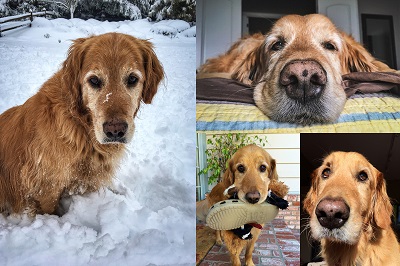 In memory of our beloved best friend and family member Bosco. A dog who epitomized the Golden Retriever character in each and every way with his unconditional radiant love and loyalty. They say we can learn a lot from our dogs: patience, happiness, loyalty, love, trust, and companionship…all things that our sweet "Bosco Boy" had. There isn't a day that goes by that we don't think about him and miss him.

Bosco: We miss your joyful trot, couch cuddles, wiggly greeting with a mouthful of toys, your big smile, wagging tail, and always having you right by our side. You really were the best dog a family could ever hope for...We were the lucky ones. We love you, Bosco, and will forever miss you. XOXO

Sincerely,
Tenaya Stine
---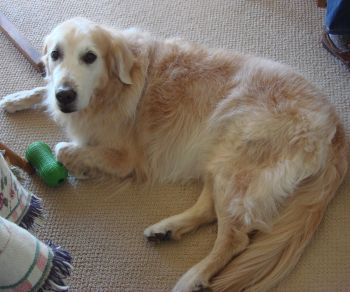 For the love of dear Henry, who kept our Monday writing group entertained, on our toes, amused, and laughing for years, from coast to coast...
He was a cherished mascot and a loving companion to our class, rain or shine.
Henry, our pens will flurry on, and remember you always, sweet friend.
--Wight's Concord Creative Writers
---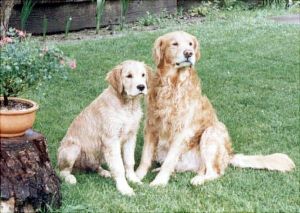 Sok (right) was a wonderful companion and epitomized the Golden nature. An avid swimmer, his serious side came out when helping emotionally disturbed children deal with their issues. He carried on a wonderful line of Goldens from his father, Abraham, and bred extensively with Canine Companions for Independence (Santa Rosa) and Guide Dogs for the Blind (San Rafael).
His son, Benjamin (left) was another energetic lover. Lymphoma cut short his life just before he was to start his breeding career.
Both are still missing after the years.
A special thanks and recognition to Dr. Ruth at CCI who was pivotal in both their lives and instrumental in bringing us together.
--John Graykoski
---
You could not have been more loyal or appreciative of our affection and care. You found your forever home, and we found pure love. Thank you for all your teaching. We love you.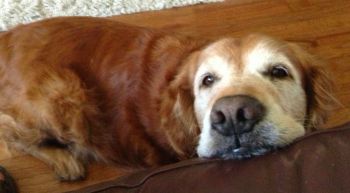 Love, Mom (Susie) and Jim Glueck
---
Malcolm was loved by all and wherever he went..at home, at the office, on vacation, or just walking down the street. He greeted every person and every other animal with that golden smile and with the tail wagging. He left us all too soon but everyone is a better person for having spent time with him.
Thank you.
--Joyce Shiarella
---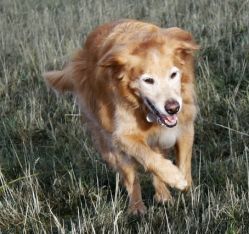 We didn't have Shiloh for 9 years she had us. Gentle and sweet, when he wagged his tail his whole body wiggled. And when you hugged him he would lean into you. And he had the most elegant prance.
Shiloh never let us forget to play, always eager to fetch or tug with his grungiest toys. He was king of the bubble chasers. Oh, and a skilled counter surfer without a shred of remorse for the occasional filched sandwich.
There wasn't a time when Max or I lay down for a nap that Shiloh didn't make a beeline to plop down beside us. That was just his job.
And Shiloh was the best friend of Emily Rose, our Black Lab mix. They were inseparable. She misses him, as we will always miss him.
With gratitude to our loving companion.
Lucy, Max, and Emily Rose
---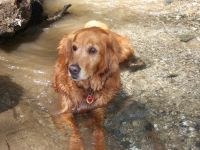 Lili Marlene, a Loving member of the Nyren family crossed the Rainbow Bridge on April 7, 2012, at age of 10
Lili came to us through NGRR, an abandoned stray with a lethal infection, heartworm, and evidence she'd recently had puppies. NGRR paid for her heartworm and other care and Lili became our fourth golden adopted through NGRR. She was special for her dainty and feminine nature, love of snuggling, and warrior princess nature when water or squirrels were sighted. In the mornings, she would jump into our bed and hug me while staring deeply into my eyes. Until late in life, she had no use for other dogs, until our fifth Golden, Sunny of Hollywood, taught her to play. She is deeply mourned. Eve Nyren
---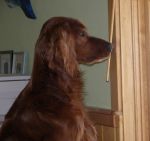 In memory of Betty Barkus (nee Rovetta) January 31, 2002-July 7, 2010
A loving family member of Kris Williams, Trigger, and Simba
Click here for the full story.
Video
Video by Paul Bliss - www.blinc.net, music by Suzanne Ciani - www.sevwave.com