2024 Calendar in the Store. Fall Newsletter published in News. To receive a newsletter, please send a note to [email protected]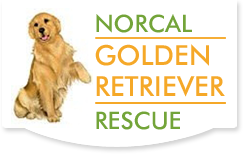 Fosters are our most important volunteers. Fosters take in surrendered dogs who need a safe home right away, they make sure vet visits and shots are done, and otherwise care for the dog as if it were their own while in their custody. Our fosters are compassionate, giving people, willing to invest their time and talent to help a dog in need.
If you are interested in becoming an NGRR foster, see our Online Foster Application. One of our members will contact you and arrange an interview.
PLEASE NOTE: Most of our qualified families are looking to support calm dogs that get along with other dogs. As you can imagine, those goldens are placed very quickly! What we are most in need of are dog-training-smart fosters that can support a dog that may need to be the only dog (and usually, no cats) and can transport for possible ongoing medical care. If you can help with these needs, please submit a foster application.
Video
Video by Paul Bliss - www.blinc.net, music by Suzanne Ciani - www.sevwave.com