2024 Calendar in the Store. Fall Newsletter published in News. To receive a newsletter, please send a note to [email protected]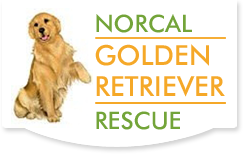 How to Reach Norcal Golden Retriever Rescue
Norcal Golden Retriever Rescue
405 El Camino Real
Suite 420
Menlo Park, CA 94025-5240
Mobile: 650-665-0964
Email: [email protected]
Why Rescue a Golden Retriever?
Gentle, affectionate, intelligent, friendly, and loyal. These characteristics are inherent to the breed, Golden Retrievers make outstanding family pets and loving companions. A Golden, like any other dog, can find itself in need of a new home.
What is Norcal Golden Retriever Rescue?
Our goal is to secure safe, loving homes for all adoptable Golden Retrievers. We offer placement services for owners who need to give up their dogs because of changing life circumstances such as relocation, financial hardship, divorce, allergies, illness, or death. We offer them an alternative to taking their pets to an animal shelter or the Humane Society. We also rescue abandoned, neglected, and even abused Golden Retrievers. 100-150 dogs a year find a safe haven when they find us. We also raise money through fundraising events, local events, and our online store . We gladly accept charitable donations through our website. See About Us for more details.
How does Rescue Operate?
We have over 190 volunteers throughout Northern California and Western Nevada who generously donate their time and love to provide new loving homes to Goldens who have been displaced. Among these volunteers are a Board of Directors and a network of Area Coordinators and Assistants, who take custody of surrendered Goldens from family homes, good samaritans, local shelters, and social media posts, interview prospective applicants, transport dogs, evaluate the health and temperament of dogs, and perform a myriad of other tasks. We also have fosters in each county who help provide temporary loving foster homes, assure all vet care is provided, and arrange visits with prospective adopting families.
Other volunteers assist with everything from fundraising and public relations to legal, accounting, and administrative work. Compassionate and responsible volunteers are always needed. If you would like to help, please complete our online Volunteer application or send an email to [email protected]
How is Rescue Funded?
Though our organization is comprised entirely of volunteers, we do need money for veterinary care, neutering and spaying, dog food, transportation, and administrative expenses such as telephone, printing and postage. We rely primarily upon placement and adoption donations for our funding. The suggested donation amounts are on the Donations tab, but do have some flexibility given personal situations and hardships. We also raise money through fundraising events such as our very popular art and wine auction, and on the online store with a shopping cart which sells items such as calendars and t-shirts. And, of course, we gladly accept charitable donations.
How do I Adopt a Golden?
Please go to the our Adoption Page. After you submit the completed online Adoption Application, an NGRR volunteer will contact you and review your application. If that goes well, an NGRR agent will visit you in your home and review the details about your household as it relates to the dog. Once approved, the NGRR volunteer will search our data base of available dogs to find the best match. If a match is found, the volunteer will arrange a visit with your family and the dog at his/her foster home. If that goes well, the adoption papers are signed, and you take custody.
How do I Surrender my Golden?
If you need to place your Golden Retriever in a new home, please see our Surrender page and complete our on line Surrender Application . An NGRR agent will arrange to meet with you and evaluate your dog. We require owners to inform us of any health and behavioral concerns with the dog and to sign a surrender contract giving up all rights to the dog. If your dog is deemed adoptable, we will place it in temporary foster care until we can find a new owner. There is no fee required to surrender your dog.
Does NGRR Accept all Dogs Offered for Surrender?
Unfortunately, we cannot accept dogs who are very aggressive to other dogs or humans, particularly dogs who bite without provocation. We also cannot accept dogs who are very sick or injured with bleak prospects of recovery. If our NGRR agent has any concerns when they come to see your dog, they may request you to arrange an NGRR recommended vet or behaviorist ( at your expense) before we can accept it.
What if the Dog doesn't Work Out?
If during the visit of the dog that NGRR has selected, you decide it is not a good fit, you will not be asked to adopt the dog. NGRR will try to assess why and try to find you another dog. However, 2 successive refusals may put you farther down the priority list. If after you adopt a dog , it becomes obvious it is not a good fit NGRR will take the dog back. However depending on the circumstances, this may put you farther down in the priority for adopting another dog.
Am I Guaranteed a Dog if I Submit an Adoption Application?
No, NGRR does not guarantee a dog for every applicant, even if the home visit went well and we decide you are a good candidate. Your limitations on age, behavior, your experience with dogs, etc. may make it difficult to find you the right dog.
What if I don't live in Northern California?
Please search the internet for Golden Retriever Rescue organizations in your State and local area. With the surrending of Golden Retrievers down this year, we recomend reaching out to other rescue organizations in California and Nevada to increase your chances of adoption.
What other Organizations Work with NGRR?
We have many friends in the Bay Area including shelters, local vets and other rescue orgnazations.
Tax Implications
NGRR urges you to work with a competent tax professional for the deductibnility of any donation, purchase, event registration, etc., because each person's tax situation is so different
As a guideline of what you need to ask your competent tax professional about how to handle your circumstances, we provide the following for people without any unusual tax or financial circumstances, click here.
Video
Video by Paul Bliss - www.blinc.net, music by Suzanne Ciani - www.sevwave.com