2024 Calendar in the Store. Fall Newsletter published in News. To receive a newsletter, please send a note to [email protected]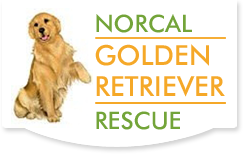 Occasionally, a dog that is relinquished to NORCAL Golden Retriever Rescue requires a great deal of medical attention, far beyond the typical medical checkup, vaccinations, foxtail removal, spay or neuter that most dogs need. These largely neglected dogs may need an expensive surgery to correct a problem that has prevented them from leading a normal life up to this time. Many of these dogs are young, and have many years of pain ahead of them if they do not get the surgery they need.
NGRR has started a special fund to help these needy dogs receive the care they deserve. Originally called The "Zack Fund" and now called the Special Needs Fund was started by a couple of NGRR Area Coordinators to help Zack, a dog with severe hip dysplasia. Once the money had been raised to help Zack, these same people envisioned setting up a fund to help any NGRR dog that needed surgery to achieve a normal life. All dogs deserve a life free of pain and a home where they are loved and can love.
This page is dedicated to Zack and the other special NORCAL dogs that have won our hearts over the years through their undying Golden spirit and enthusiasm for life. Although the situation for each of these dogs is exceptional in the extent of the physical deformity or medical problem, it represents something that is not uncommon. To help us create a new, loving, and pain free life for these sweetest of dogs, you can donate to the Special Needs Fund by using our online donation form, or by a printable donation form where you print the application and mail it in with your check, credit card or cash information.

You can select a specific dog that NGRR has identified needing help for your Special Needs donation. A gift by check, credit card or cash may be made outright, or as a pledge to be fulfilled over a period of up to five years. For other options in making a donation to NGRR, please see our Other Donation Options.
Video
Video by Paul Bliss - www.blinc.net, music by Suzanne Ciani - www.sevwave.com